Vi-Alpha® Male Enhancement Formula
A max-strength male enhancement supplement formulated to deliver results.
---


Enhances libido and sex drive†

Contains 1000mg of L-Arginine per serving†

Safe & natural ingredients†
Choose Your Supply (Buy Bulk & Save):
---
Vi-Alpha® Male Enhancement Formula
A max-strength male enhancement supplement formulated to deliver results.
Choose Your Supply (Buy Bulk & Save):
---
• Enhances libido and sex drive†
• Contains 1000mg of L-Arginine per serving†
• Safe and natural ingredients†
---
GO HARDER, LAST LONGER, & SUPERCHARGE YOUR SEXUAL PERFORMANCE
Vi-Alpha® is our #1 selling male enhancement supplement that's helped hundreds of thousands of men worldwide completely overhaul their sex life.†
Designed to give you complete nutritional support, it features an advanced complex of 10 scientifically formulated ingredients to deliver rapid male enhancement when you need it most, maximising your natural potential and giving you the power to perform.†
Each serving of Vi-Alpha contains a massive 1000mg of L-Arginine, which when consumed turns into nitric oxide; a powerful neurotransmitter that helps blood vessels relax and improves circulation.† Additionally, Vi-Alpha features a research-backed botanical blend designed to help ignite your libido and sex drive.†
With its fast-absorbing, bioavailable formula, Vi-Alpha is your ultimate wingman in the bedroom, and contains everything you need to turbo-charge your sexual performance.†
All customers who purchase Vi-Alpha are protected by our 30-day money back guarantee, meaning you've got nothing to lose.
Vi-Alpha is a market-leading male enhancement product that's formulated to be lightyears ahead of the competition.
PEOPLE USE VI-ALPHA BECAUSE:

It can be useful for men looking to improve their sexual performance

It can help support blood flow and circulation

It can assist those who have performance anxiety

It's good for those looking to "last longer"

It can help increase your libido and sex-drive
---
OUR MOST POPULAR BUNDLE PACKS
Fast, Free & Tracked Shipping
---
Fast, Free & Tracked Shipping
---
---
NO HARMFUL INGREDIENTS & SIDE-EFFECTS
We've formulated this product to be the strongest and most effective available, but that doesn't mean we've neglected consumer safety and wellbeing.
We have ensured that it is 100% free from any dangerous, banned or harmful ingredients, and have made sure that it will not produce any negative side-effects for users.
FREQUENTLY ASKED QUESTIONS
Above everything, customer safety is our #1 concern.
Every single Astral Nutrition supplement contains nothing but 100% safe and approved ingredients; at no point will our products ever contain anything that's not suitable for human consumption, or any ingredients that lack conclusive safety research.
We believe that transparency is key when it comes to our formulations, which is why we always disclose the exact amounts of each ingredient used within our supplements.
Additionally, to ensure our supplements are always at the forefront of safety, all our formulations are regularly checked by our expert nutritionists to ensure they continue to conform to the rightfully-strict rules set for supplement manufacturers.
How Long Can I Use Vi-Alpha For?
Vi-Alpha has been formulated in such a way that it can be used continuously without issue - you will never need to discontinue usage unless you choose to.
What Are The Vi-Alpha Ingredients?
Ingredients: Capsule Shell (Gelatin), L-Arginine Hydrochloride, Magnesium Stearate (Veg Source), Ginkgo Leaf Extract 50:1 (Contains: Starch), Korean Panax Ginseng 40:1 80% Ginsenosides, Fenugreek 33:1 Extract (Contains: Starch), Black Aged Garlic 100:1, Broccoli Extract 10:1, Maca Root Extract 10:1, Oat Straw (Avena Sativa) Extract 10:1 (Contains: Cereals (Containing Gluten)), Watercress Extract 10:1, Rice Flour, Asparagus Root Extract 4:1, Silicon Dioxide (Sipernat 22S).
What Are The Vi-Alpha Directions Of Usage?
Take two (2) capsules 30-60 minutes prior to sexual activity, ideally on an empty stomach.
Do not exceed four (4) capsules per day. Leave 4-5 hours between servings.
Who Should Not Use Vi-Alpha?
This product should not be used by:
Those with underlying health conditions

Those who are pregnant or breastfeeding

Those with abnormalities to the esophagus or gut

Those under the age of 18

Those with allergens to any listed ingredient(s)
Are There Any Side Effects?
No – all Astral Nutrition products are specifically formulated to ensure no side effects are experienced by users.
---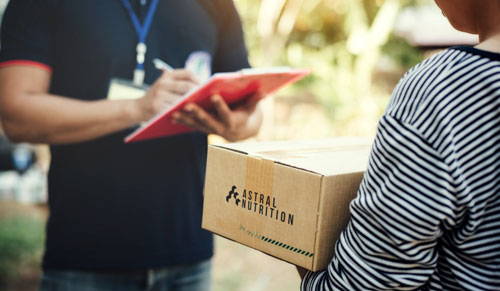 FREE TRACKED CONTIGUOUS US SHIPPING
Always know where your order is, and when it's arriving.
Each Astral Nutrition order is fully trackable every step of the way, from our distribution hub, right to your address.
GREAT WHEN USED ALONE, BETTER WHEN COMBINED
Many of our products can be used at the same time for synergistic effects. We recommend you consider using Vi-Alpha with some of our other products:
VI-ALPHA + TESTOBOOM TEST BOOSTER
TestoBoom is a research-backed, max strength natural test booster supplement.†
Why use it with Vi-Alpha?
Research has shown that having lowered T-levels can result in a decline in your sex-drive and may also be a factor in impotence, which is why TestoBoom stacks so well with Vi-Alpha.†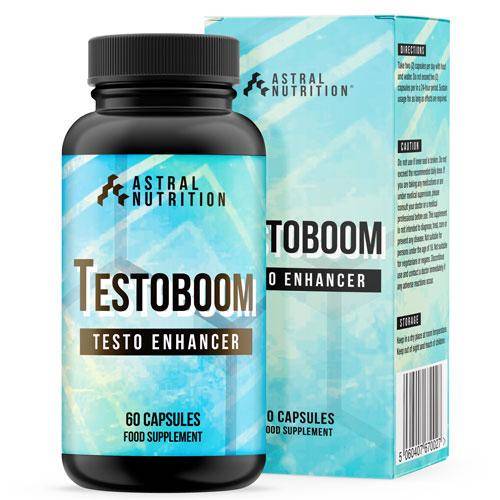 GET THE RESULTS YOU WANT, OR YOUR MONEY BACK.
30-DAY MONEY-BACK GUARANTEE
Not that we think you'll need it, but..
We are so confident in our products ability to deliver results, that we offer every single customer a no hassle, no questions asked 30-day money-back guarantee for those who are not completely satisfied.
Ts&Cs apply.

PREMIUM AFTER-SALES SUPPORT – WE'RE WITH YOU EVERY STEP OF THE WAY.
We pride ourselves on our after-sales support.
We have a customer advice team of qualified nutritionists who are completely at your disposal, ready to give advice and guidance on getting the best possible results from our products.
Ts&Cs apply. Nutritional advice available to those with a valid order number.
CUSTOMER REVIEWS FOR VI-ALPHA