FolliSave is a clinically-proven DHT blocker and hair regrowth formula.
Designed to be free from side effects and suitable for both men and women, FolliSave is powered by a complex of the most effective and fast-acting ingredients that block DHT, a substance that kills hair follicles.
Additionally, FolliSave also helps regrow lost or thinning hair by stimulating, rejuvenating and nourishing hair follicles at a cellular level.
This is an essential product for anyone who wants their hair returned to its former glory! †
Choose Your Supply (Buy Bulk & Save):
30-DAY MONEY BACK GUARANTEE
NO RECURRING BILLING OR CHARGES
THE MOST EFFECTIVE DHT BLOCKER ON THE MARKET.
FolliSave works in 2 key ways to completely restore your hair:
It prevents the death of hair follicles for both men and women:
FolliSave uses a clinically proven formula to prevent DHT from binding to receptors in your scalp. DHT can cause your hair follicles to shrink, weaken and eventually die; if you feel like your hair is thinning, or if you're genetically susceptible to hair loss and are looking to preemptively prevent any future hair loss, FolliSave is a critical supplement for you.
It helps you regrow your hair:
FolliSave has also been fortified with a powerful "jump-start" multi-mineral complex that's designed to rejuvenate and stimulate diminishing hair follicles, allowing for the optimal growth of new hair.
1. Take one serving of FolliSave every morning with breakfast.
2. You should use this product for a minimum period of 6 months; ideally you should sustain usage indefinitely to ensure you prevent future hair loss.
Store in a cool, dry place, away from direct sunlight.
Use within 6 months of opening.
Always keep out of reach of children.
Important User Information:
Do not exceed the recommended daily dose.
Food supplements must not be used as a substitute for a varied and balanced diet and a healthy lifestyle.
If you are pregnant, nursing, taking any medications or are under medical supervision, please consult your doctor or a medical professional before use.
Discontinue use and contact a doctor immediately if any adverse reactions occur.
This product is not suitable for vegetarians.
| | |
| --- | --- |
| Active Ingredient | Amount Per Serving |
| | 500mg |
| | 100mg |
| | 100mg |
| | 100mg |
| | 20mg |
| | 200mcg |
| | 150mcg |
Ingredients: Saw Palmetto 4:1 Extract, Bulking Agent (Rice Flour), Capsule Shell (Gelatin), Nettle Leaf 4:1 Extract, Broccoli Sprout 10:1 Extract, N-Acetyl L-Cysteine, Anti-Caking Agents (Magnesium Stearate, Silicon Dioxide), Zinc Oxide, Colors (Patent Blue V, Titanium Dioxide, Yellow Iron Oxide), Kelp Extract (1% Iodine), Folic Acid.
Are the effects of follisave permanent?
While you're using FolliSave you will be protecting your hair from DHT damage, however if you were to stop using FolliSave, you will eventually leave your hair as risk again.
If you are losing hair, you may find that FolliSave helps bring once-thinning hair back thicker and stronger (especially when it's combined with H-Boost), however discontinuing usage could cause your hair to revert back to a thinning-state over a certain period of time.
As per our directions, we highly advise that those with thinning hair continue usage to ensure they've got the maximum amount of protection.
Can i combine this product with dht blocking shampoo?
Absolutely, in fact that's something we would actively encourage.
Are There Any Side Effects?
No; we have designed FolliSave to not produce any unwanted negative side effects.
Is follisave Suitable for Vegetarians
Unfortunately this product isn't suitable for vegetarians or vegans, as we use gelatin capsules.
FolliSave is perfect for the following..
Those who are experiencing unwanted hair loss.
Those who have lost hair and are looking to restore it.
Those looking to protect themselves against potential hair loss.
Those who feel their hair follicles are diminishing or reducing in productivity.
For the best and fastest hair regrowth results possible, we highly recommend that you take FolliSave with the following product:
THOUSANDS OF SATISFIED CUSTOMERS
FolliSave really works! Here's just some of the incredible results that we've been sent from our customers* - start your own success story today.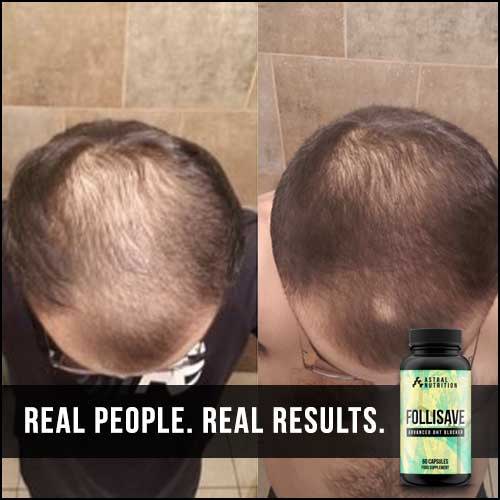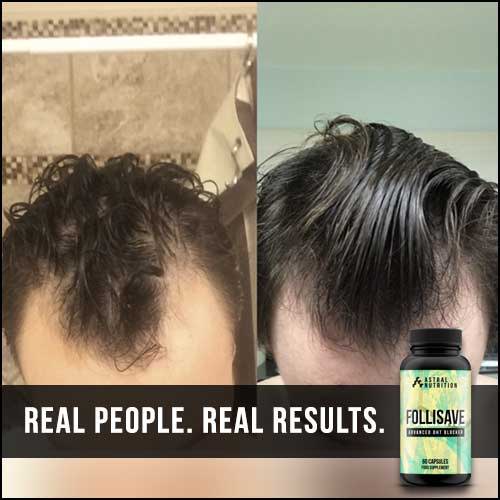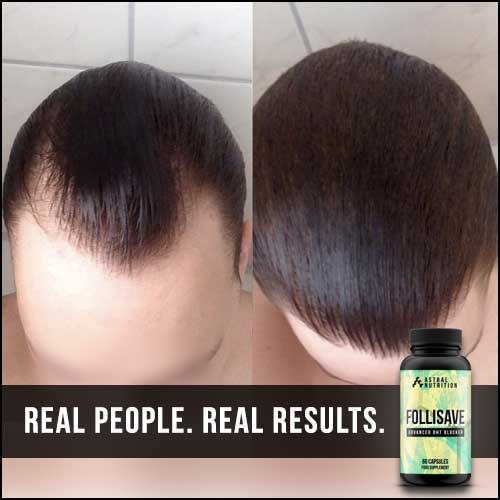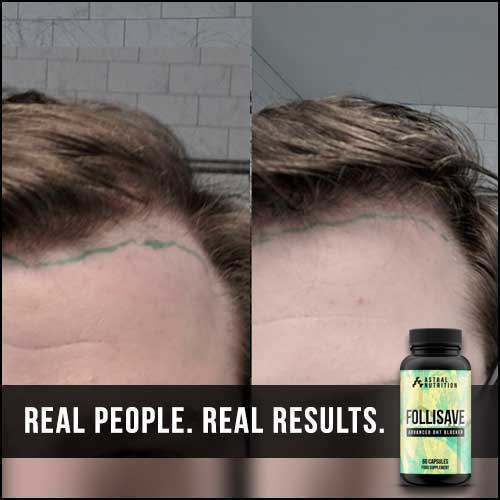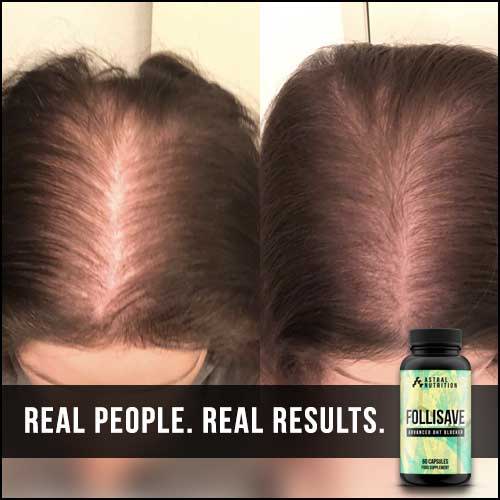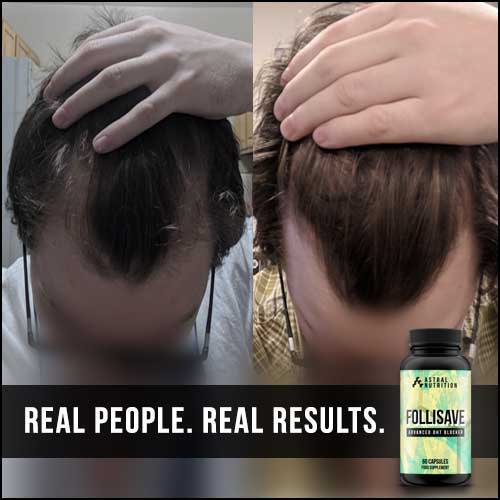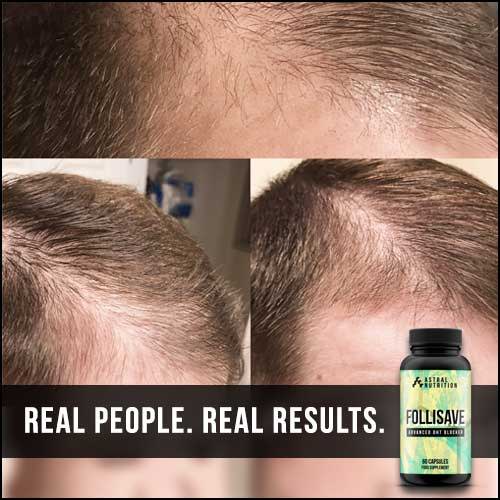 *Disclaimer: all of these images are genuine and provided to us by our customers. Individual results may vary from person to person.
---
MOST POPULAR & BEST RESULTS ▼
120 Capsules
Retail: £49.99
180 Capsules
Retail: £74.99
OUR 30 DAY MONEY-BACK GUARANTEE:

We are so confident in our product that we offer every single customer a no hassle, no questions asked 30 day money-back guarantee.
If you're not 100% satisfied with the results, we will issue you a refund.
---
WITH YOU EVERY STEP OF THE WAY
---
We pride ourselves on our after-sales support; your order with us is only just the beginning. We have a customer advice team of qualified nutritionist and dietitians who are completely at your disposal, ready to give you bespoke advice and guidance so that you can see the very best possible results.
We know that things can be intimidating, which is why we're with you every step of the way.
NO HARMFUL INGREDIENTS & SIDE-EFFECTS
---
We've formulated this product to be the strongest and most effective available, but that doesn't mean we've neglected consumer safety and wellbeing.
We have ensured that it is 100% free from any dangerous, banned or harmful compounds, and ensured that it will not produce any negative, unpleasant side-effects for users.
---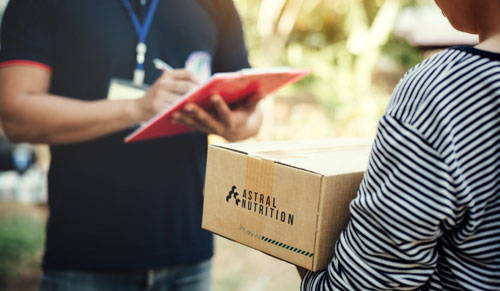 FREE TRACKED WORLDWIDE SHIPPING

Always know where your order is, and when it's arriving.
Each Astral Nutrition order is fully trackable every step of the way, from our international distribution hub, right to your address.
Customer Reviews FOR FOLLISAVE
Name: Miguel
Rating: ★★★★★ (5/5)
Review: I started using this about 12 months ago when my hairline started to visibly recede and it really did work wonders. Within 2 months I was seeing the gaps fill back in, and within 6 months about 90% of the hair had returned. My hair is overall thicker and healthier too, and i'm not seeing any breakage.
Name: Quinn
Rating: ★★★★★ (5/5)
Review: It's a very good product, working very well!!
Name: Garrett
Rating: ★★★★★ (5/5)
Review: I am really liking this product so far! I have started to notice small changes, but I'm only half a bottle in to the first bottle- I hear I need to give it about 3 to notice real change. I'm extremely optimistic!
Name: Will
Rating: ★★★★★ (5/5)
Review: I have noticed less thinning and my hair is improving with less breakage!
Name: Ray
Rating: ★★★★★ (5/5)
Review: I saw a difference within a week or so. My hair started to grow and it looks fuller. Hope it continues to grow.
Name: Jacob
Rating: ★★★★★ (5/5)
Review: I'm noticing a lot less hair falling out and i'm taking only this pill and some additional biotin. I do recommend this product!
Name: Jessie
Rating: ★★★★★ (5/5)
Review: This is an amazing product. I ordered a month ago and started seeing a difference in 18 days. I was losing hair in the front and now the hair grew back and filled in the thinning area and rest of my hair is thicker and seems healthy. Definitely will purchase this product again.
Name: Vince
Rating: ★★★★★ (5/5)
Review: I am on my second bottle and there is definitely new growth on my hair line where it had been previously thinning. I will continue using product.
Name: Kamron
Rating: ★★★★★ (5/5)
Review: After 1 month of use I'm starting to see the thinning areas fill in a little. The results aren't too dramatic yet, but I expect it to take some time and consistency before any significant results.
Name: Shaun
Rating: ★★★★★ (5/5)
Review: Been using it for 3 months and it works
Name: Alex
Rating: ★★★★★ (5/5)
Review: My hair was not growing at all. I attributed that to the medications I was taking for hypertension. I tried everything but nothing seemed to work. Since using this product, I can see hair growth now and it happens fairly quickly too. I am very happy about this product!
Name: Cooper
Rating: ★★★★★ (5/5)
Review: Product working well to far. No side effects. Seems to work well, although I'm still early in the process.
Name: Dillan
Rating: ★★★★★ (5/5)
Review: This stuff really does work! I had some thinning on the front of my scalp and in a month it is already thicker I have new hairs growing and my hair is growing much more faster. So glad I found this stuff.
Name: Jordan
Rating: ★★★★★ (5/5)
Review: After coming to grips in my mid thirties that my hair was thinning, I took the chance. Believe the reviews!
Name: Martin
Rating: ★★★★★ (5/5)
Review: I love using this product! It has been great and I will continue to use it.
Name: Rocco
Rating: ★★★★★ (5/5)
Review: This product is helping my bald spots :)
Name: Ben
Rating: ★★★★★ (5/5)
Review: Was skeptical, but this product seems to be working as advertised
Name: Kendrick
Rating: ★★★★★ (5/5)
Review: good product, used for over one month, seeing some improvement, price is not that expensive compared to other popular dht products.
Name: Brett
Rating: ★★★★★ (5/5)
Review: Worked really good for me. Gonna keep going to see further results
Name: Derrick
Rating: ★★★★★ (5/5)
Review: I've been looking for a product to grow my hair in forever. I finally found it! So happy :)))
Name: Kelvin
Rating: ★★★★★ (5/5)
Review: The product is easy to take. I do believe that it has made the hair grow back thicker. The before pic is on the bottom and after on top. This is no magic pill to make you sprout a head full of hair but I can see a noticeable improvement that I am very pleased with.
Name: Lance
Rating: ★★★★★ (5/5)
Review: I notice significantly less hair in my drain after a week or two. That is a good sign so I will continue using.
Name: Javion
Rating: ★★★★★ (5/5)
Review: Great product! Seeing slight results after only 1 month.
Name: Luke
Rating: ★★★★★ (5/5)
Review: No aftertaste, and getting some results already after 1 1/2 months. Easy to add to your routine.
Name: Laura
Rating: ★★★★★ (5/5)
Review: I just received my second bottle. It was great getting out of the shower and have No hair left on the shower floor Before I used this product I was shocked by the amount of hair left on the shower floor. It was scary. I thought if that keeps up I will be completely bald in less than a year. Thank you for your great product, you saved my dignity.
Name: Coby
Rating: ★★★★★ (5/5)
Review: Being using for a month now and have been pleased with the results so far....
Name: Hunter
Rating: ★★★★★ (5/5)
Review: This product is easy to use and works for hair grow drastically after 90 days.
Name: King
Rating: ★★★★★ (5/5)
Review: I was suffering from having thinning hair problems to close to balding. I didn't want to lose my hair so I started researching some products and came across this one. I have to say it works pretty well for me and recovering my hair to the point where I can barely see thinning hair even through ultra lighting. I say try this product out and give it a chance.
Name: Dwayne
Rating: ★★★★★ (5/5)
Review: I have used the product for over a month now and find that my hair fall seems arrested. Hoping the hair starts growing back soon.
Name: Dale
Rating: ★★★★★ (5/5)
Review: I have been using this product for 3 months now and I have noticed new hair growth, especially in the areas I was really having problems with.
Thanks! We'll validate your review and it'll be visible soon!
This field is required
This field is required
This field is required
This field is required
Email addresses will not be published. *Required field