Overpwr Appetite Suppressant
Overpwr is a clinically proven appetite suppressant that is designed to cause rapid fat loss by completely removing your urges to eat.
Not only does Overpwr quickly stop hunger dead in its tracks, but it also helps speed up your metabolism, increases the fat-burning effects of exercise, prevents fat storage, and reduces cravings for sugar and carbohydrates.
The formula is stimulant-free, meaning it can be used day or night. †
Choose Your Supply (Buy Bulk & Save):
---
LOSE WEIGHT FASTER & EASIER THAN YOU EVER IMAGINED
Overpwr is the most effective appetite suppressant on the market, backed by 5 clinical studies and 15 peer-reviewed journals – it works in 6 key ways:
1. It helps you effortlessly eat less:
Overpwr addresses the two main things that trigger the desire to eat.
Firstly, it works to quickly replicate the feeling of having eaten a full meal, using a complex of natural dietary fibers (often being referred to as a "feel-full" pill by users).
At the same time, the formula also blocks Ghrelin secretion, which prevents the "hungry signals" from being triggered by the brain. †
---
2. It makes you feel fuller for longer:
What good is appetite suppression if it doesn't last very long? We've specifically formulated Overpwr to last for up to 8 hours, meaning that you can go about your day without being nagged by hunger. †
---
3. It suppresses sugar & carbohydrate cravings
Often overeating is simply habitual; this is partly caused by how addictive substances like sugar and carbohydrates can really be.
The Overpwr formula has been purposely designed to help stop you from craving such foods. †
---
4. It increases the calorie-burning effects of exercise:
Exercising while using Overpwr is not a requirement to see results, however if you do decide to exercise, Overpwr becomes significantly more powerful - helping the body directly tap into stored body fat for energy, meaning you'll be burning it faster. †
---
5. It helps speed up your metabolism
Ingredients inside this product also assist towards boosting your metabolic rates, which essentially means that your body will start burning calories faster. †
---
6. It stops fat production:
An important part of successfully losing weight and keeping it off is addressing the body's ability to store fat.
The majority of people, unfortunately, find that the storing of body fat happens all too easily, which is why we've designed Overpwr to help inhibit the functions that cause new fat storage – not only will you be burning existing fat, you'll be ensuring that no new fat is gained. †
---
Overpwr is perfect for the following..
Those looking to burn fat in the fastest possible amount of time.
Those who haven't had success with dieting.
Those who struggle with snacking (daytime or evening).
Those with a slow metabolism.
Those who struggle to control their appetite or find they can't "feel full".
For the best and fastest weight loss results possible, you should use Overpwr with the following products:
---
WHY IS OVERPWR BETTER THAN THE REST?

THE RESULTS SPEAK FOR THEMSELVES.
Overpwr really works! Here's just some of the incredible results that we've been sent from our customers* - start your own success story today.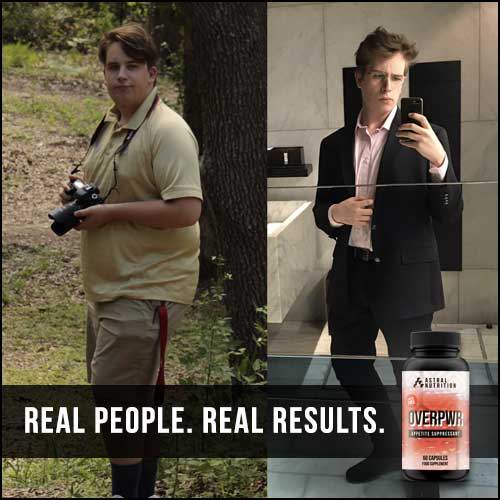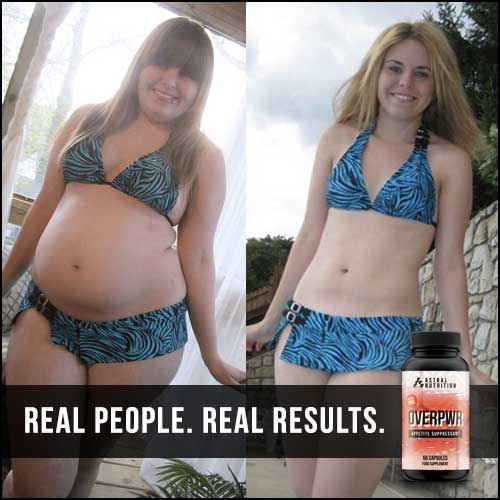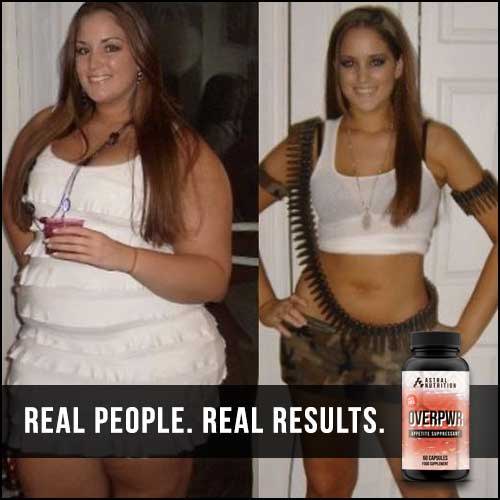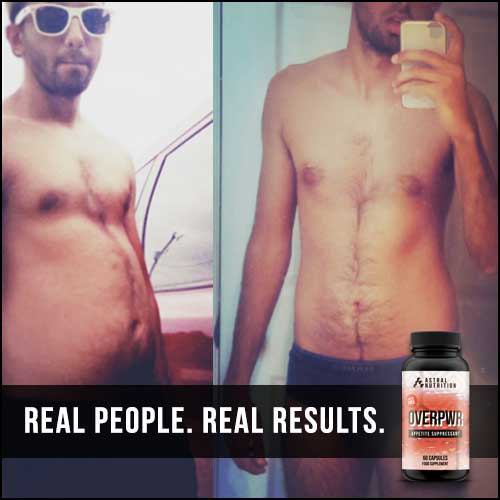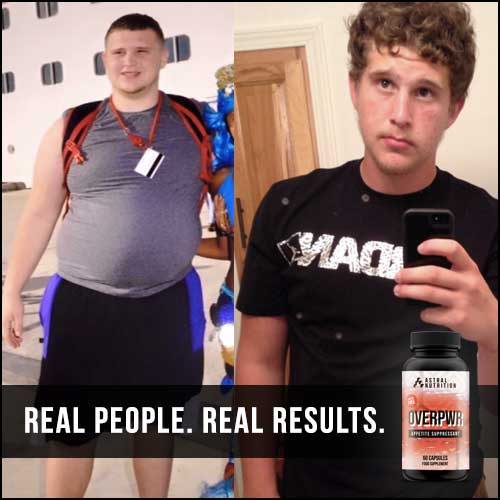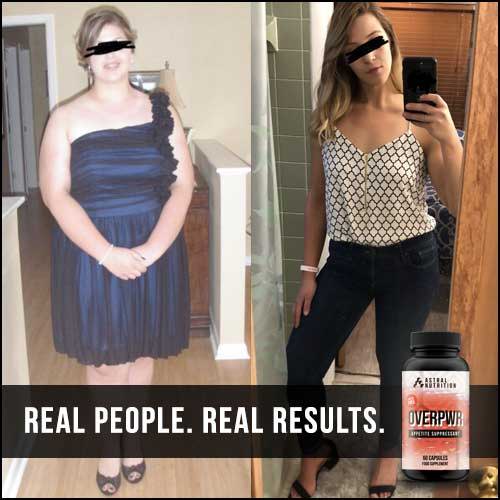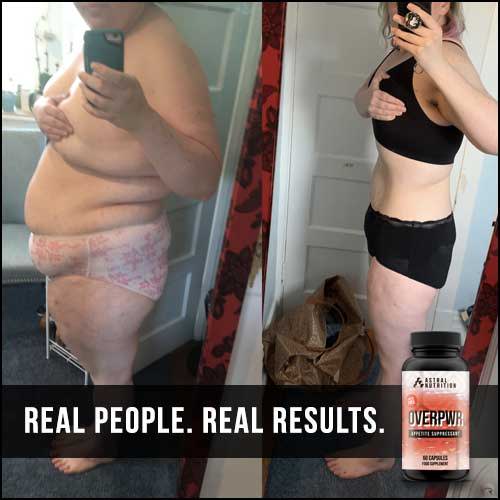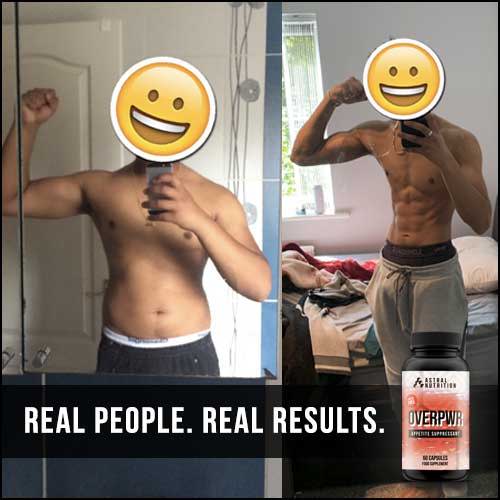 *Disclaimer: all of these images are genuine and provided to us by our customers. Individual results may vary from person to person.
---
MOST POPULAR & BEST RESULTS ▼
120 Capsules
Retail: £84.99
Fast, Free & Tracked Shipping
180 Capsules
Retail: £119.99
Fast, Free & Tracked Shipping
---
FREQUENTLY ASKED QUESTIONS
Will overpwr work for me?
Yes. Overpwr's powerful formula uses a scientifically proven blend of the most potent ingredients that cause rapid weight loss by reducing your appetite levels, improving the results of exercise, blocking fat storage, and increasing your metabolic rates - all while being completely stimulant-free and suitable for evening/nighttime usage.
The reason Overpwr is so effective for users is because it targets weight loss from multiple angles, meaning it gives you a much better chance of weight loss success than products that only work in one way.
How long will it take to see results?
Users of Overpwr will start to see noticeable weight loss results within the first 20-30 days of usage, however the appetite suppression and metabolism-boosting effects will be begin within 10-20 minutes of a serving being consumed.
The exact amount of weight lost per user can vary, however the average user who does not exercise will see results between 2KG-5.5KG (4.4lbs - 12.1lbs) of weight lost per month - this number can substantially increase if you do decide to exercise while using Overpwr, or combine it with our other weight loss products.
The amount you need will entirely depend on your starting weight and your target weight.
As we said above, the average user will lose between 2KG-5.5KG (4.4lbs - 12.1lbs) of weight per month. Therefore, if your target goal is to lose 30lbs you will require approximately 3-4 bottles of Overpwr.
What are the directions of usage?
1. Use this product as and when required to stop unwanted hunger cravings.
Take one (1) capsule for light hunger cravings.
Take two (2) capsules for moderate hunger cravings.
Take three (3) capsules for intense hunger cravings.
2. Consume the capsule(s) with 400ml of water (this is very important for the product to be effective).
3. Use this product until you hit your desired body weight.
What are the ingredients?
| | |
| --- | --- |
| Active Ingredient | Amount Per Serving |
| | 500mg |
| | 10mg |
| | 10mg |
| | 10mg |
| | 10mg |
| | 5mg |
| | 125mcg |
| Chromium | 100mcg |
Ingredients (weight order): Glucomannan 90%, Gelatin, Brown Rice Flour, Magnesium Stearate (Veg Source), Vitamin B12, Pantothenic Acid 90.1%, Vitamin B1, Vitamin B2 (Riboflavin), Pyridoxine Hydrochloride 82%, Niacin, Chromium Picolinate 12%.
How long can I take Overpwr for?
As Overpwr contains nothing but natural, effective ingredients, you can continue to take it for as long as required to reach your target weight.
Once you have reached your desired body weight you will be able to safely continue taking Overpwr to help you maintain your new weight, or you can completely discontinue usage - it's up to you.
If you start to find that the weight you lost is returning, you can simply start taking it again until you're back to your desired weight.
Is it suitable for both men and women?
Yes - Overpwr is equally effective for both men and women.
What are the side effects?
We have formulated Overpwr with ingredients deemed 100% safe to ensure that there are no side effects.
Who shouldn't take Overpwr?
We've made a list of who shouldn't use Overpwr Appetite Suppressant below:
Those with underlying health conditions

Those who are pregnant or breastfeeding

Those with abnormalities of the esophagus or gut

Persons under the age of 18
Other than this, anyone can use it without worry.
I have more questions, how do I contact you?
If you need further advice or have additional questions, simply drop us an email via our contact us page.
---
OUR 30 DAY MONEY-BACK GUARANTEE:

We are so confident in our product that we offer every single customer a no hassle, no questions asked 30 day money-back guarantee.
If you're not 100% satisfied with the results, we will issue you a refund.
---
WITH YOU EVERY STEP OF THE WAY
---
We pride ourselves on our after-sales support; your order with us is only just the beginning. We have a customer advice team of qualified nutritionist and dietitians who are completely at your disposal, ready to give you bespoke advice and guidance so that you can see the very best possible results.
We know that things can be intimidating, which is why we're with you every step of the way.
NO HARMFUL INGREDIENTS & SIDE-EFFECTS
---
We've formulated this product to be the strongest and most effective available, but that doesn't mean we've neglected consumer safety and wellbeing.
We have ensured that it is 100% free from any dangerous, banned or harmful compounds, and ensured that it will not produce any negative, unpleasant side-effects for users.
---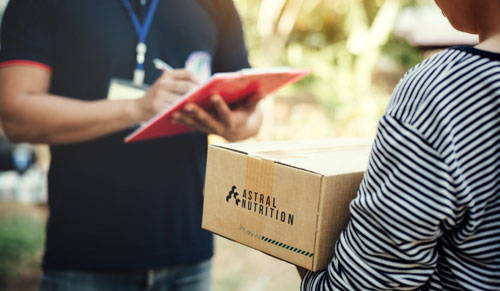 FREE TRACKED WORLDWIDE SHIPPING

Always know where your order is, and when it's arriving.
Each Astral Nutrition order is fully trackable every step of the way, from our international distribution hub, right to your address.
---
Customer Reviews FOR overpwr
Name: Liyah
Rating: ★★★★★ (5/5)
Review: I noticed a decrease in my appetite almost immediately, effects lasted for about 5-6 hours before i'd need to take another capsule. I used Overpwr for about 4 months in total and lost about 18lbs! For me it has worked very well and i'd highly recommend it - excellent diet pill.
Astral Nutrition:
Thanks for your review Liyah! That's awesome to hear, keep us up to date :)
Name: Reeva
Rating: ★★★★★ (5/5)
Review: I'm an evening snacker and it's been the main reason I've almost doubled in size over the last 10 years. I started using Overpwr last year and it has really helped me. I take two capsules around my "snacking danger zone" time (about 7-9pm) with a big glass of water, and I genuinely do not feel like eating.
As someone who's tried almost everything, this product really has worked the best. It also isn't loaded with caffeine and doesn't keep you awake at night or have you running for the bathroom every 30 minutes!
Name: Finn
Rating: ★★★★★ (5/5)
Review: Great product that I would highly recommend. Lost about 5KG in 2 months without really exercising too much.
Name: Marley
Rating: ★★★★★ (5/5)
Review: At first I didn't really do that much until I figured out that I was using it wrong! When you take it with enough water it 100% works - I was taking the capsules with literally a mouth full of water, not the recommended pint. Just a heads up for people who are going to use it.
Name: Raya
Rating: ★★★★★ (5/5)
Review: Luv it!! Amazing results over 2 months. Back to buy a double pack soon :)
Name: Romeo
Rating: ★★★★★ (5/5)
Review: Definitely kills your appetite for a good 5-6 hours.
Name: Anne
Rating: ★★★★★ (5/5)
Review: Haven't been overeating since i started them. Perfect exactly what I needed!!
Name: Kaitlin
Rating: ★★★★★ (5/5)
Review: Arrived fast, discreetly packed, and worked wonderfully. No side effects to report either. My husband is also using them - both recommended from the McFinnigan's!
Name: Tanvir
Rating: ★★★★★ (5/5)
Review: good results and working to keep my appetite down
Name: Marcelina
Rating: ★★★★★ (5/5)
Review: very pleased with my purchase
Name: Daisie
Rating: ★★★★★ (5/5)
Review: Overpwr is amazing and working really well for me.
Name: Gary
Rating: ★★★★★ (5/5)
Review: Very good product , would recommend.
Name: Trystan
Rating: ★★★★★ (5/5)
Review: Nice little helper but you need to be careful with food, make sure you're not still overeating!!
Name: Kingston
Rating: ★★★★★ (5/5)
Review: I've found that my cravings have stopped and the bloated feeling I use to get after eating food has now gone.
Name: Eva-Rose
Rating: ★★★★★ (5/5)
Review: Good product and arrived fast. Work well and don't leave any nasty aftertaste like some of the others do.
Name: Danish
Rating: ★★★★★ (5/5)
Review: They really do stop you from feeling hunger. I would say that the only complaint is the price, but I just order bundle packs which are a much better deal. Really do love the product itself tho so 5 stars from me.
Name: Lesley
Rating: ★★★★★ (5/5)
Review: I have been using these for over a week now and they have really helped me with not snacking when I shouldn't be. They also have no after taste which is a plus. Can't recommend this product enough.
Name: Isabell
Rating: ★★★★★ (5/5)
Review: Worked fantastically lost a stone in a month using these tablets they really do stop you from feeling hungry really impressed
Name: Rida
Rating: ★★★★★ (5/5)
Review: I absolutely love it, lots of water 💦 and a few pills before a meal and I eat considerably less! I'm so happy the cravings were getting too much.
Name: Alan
Rating: ★★★★★ (5/5)
Review: I have been taking 2-3 of these a day for the past 6 weeks or so as a way to stop snacking in between meals. They are extremely effective - the tablets make you feel 'full' without any adverse side effects, and are a great aid to weight loss. Will definitely be ordering more.
Name: Krzysztof
Rating: ★★★★★ (5/5)
Review: Brought these twice now the first time I didn't expect much but tbf with a balanced diet they really helped reduce hunger so far I've dropped 1 and half stone, you can't rely on these without a diet plan but they do really help when you get hungry
Name: Gwen
Rating: ★★★★★ (5/5)
Review: This really helps to control my wild blood sugar that makes me grab for food. Helps to cut down hunger, great news.
Name: Glenda
Rating: ★★★★★ (5/5)
Review: Absolutely amazing gets rid of all hunger cravings it has helped me to control my snacking and maximise my weight loss
Name: Mack
Rating: ★★★★★ (5/5)
Review: I have purchased OVERPWR last week from AstralNutrition. It was advertised as 'appetite suppressant' - and this is what it really doing. The secret is special glucomannan formula that turns water into gel. When it's in your belly it makes you feel full, you eat way smaller portions and loosing your weight. Helped me to drop 8kgs in just 3weeks. Really well spend money, worth every cent :)
Name: Gabrielle
Rating: ★★★★★ (5/5)
Review: I have used many other product , but I wasn't happy with them . finally , I found OVERPWR ( APPETITE CONTROLLER). It's amazing and I lost some weight .
Name: Jolie
Rating: ★★★★★ (5/5)
Review: Wanted to say that this product is highly recommended it is doing wonders for me
Name: Deon
Rating: ★★★★★ (5/5)
Review: I am always snacking which does not help me stick to a routine. Has helped
Name: Aleisha
Rating: ★★★★★ (5/5)
Review: Wow recieved these and felt the effect almost straight away, if I feel that hunger coming on I go for these, I like the face that you can take different amounts according to How hungry you are.
Name: Chester
Rating: ★★★★★ (5/5)
Review: It helps me with holding my morning appetite and helps with my intermittent fasting ☺️
Name: Amani
Rating: ★★★★★ (5/5)
Review: I was skeptical about this product as nothing has managed to control my appetite. These actually worked!! They took away the craving without any side effects and if i'd eat after taking them felt like I was full so didn't continue eating. I do notice if I've missed taking them as I can often comfort eat. Definitely worth a try!!
Name: Nyla
Rating: ★★★★★ (5/5)
Review: Excellent product . Does exactly as advertised. Didn't feel any hunger for almost 12 hours. Helped lose weight as soon as 10 days . Would definitely recommend .
Name: Anabel
Rating: ★★★★★ (5/5)
Review: I suffer hunger and these tablets help my hunger pains , I would highly recommend this amaxing product
Name: Alessio
Rating: ★★★★★ (5/5)
Review: This did decrease my appetite and make me feel much fuller then I normally would, highly recommend
Name: Cassius
Rating: ★★★★★ (5/5)
Review: worked really well curbed appetite when ever used.
great for weight loss and cutting out snacking
Name: Ray
Rating: ★★★★★ (5/5)
Review: Fast service started and helping with craving
Name: Edna
Rating: ★★★★★ (5/5)
Review: Great product... I would definitely try this but make sure you remember to eat as you will feel a lot less hungry
Name: Shayne
Rating: ★★★★★ (5/5)
Review: I like snacking a lot and this has really helped me not to think about food all the time and wanting to constantly snack.
Name: Anthony
Rating: ★★★★★ (5/5)
Review: Really useful if you're an evening-snacker. I usually just take either 2-3 pills around 8-9pm with a pint of water and shortly afterwards I feel naturally fuller (not the same as having eaten, but that uncomfortable "hungry" feeling definitely subsides). Positive results so far I just hope they keep working.
Name: Stephanie
Rating: ★★★★★ (5/5)
Review: Works quickly, great product when used correctly with water.
Name: Layla
Rating: ★★★★★ (5/5)
Review: As somebody who's literally always hungry, I didn't really expect too much from these, but after using them I was really impressed. I usually have two capsules a few hours before bed with plenty of water to stave off any late night binge eating - seems to work well for me at least..
Name: Jordyn
Rating: ★★★★★ (5/5)
Review: Excellent product takes your appetite away!
Name: Ayyan
Rating: ★★★★★ (5/5)
Review: Helped so much would definitely reccomend!
Name: Mylie
Rating: ★★★★★ (5/5)
Review: This product really works for me & completely suppressed appetite - have just ordered more. They are the best appetite suppressants I have used.
Name: Jasmin
Rating: ★★★★★ (5/5)
Review: Used this with chocolate burner shake. Brilliant lost a load of weight!
Name: Eileen
Rating: ★★★★★ (5/5)
Review: I was very doubtful at first and thought it was all advertising. For me it is the first product that actually works, this is because it does not have caffeine (which I can not tollerate) and you can take it anytime to stop hunger, not just before meals as most products do. Very important, drink the water!
I will certainly continue to buy this for my weight loss journey.
Name: Sadia
Rating: ★★★★★ (5/5)
Review: These really do what they claim. I've never tried anything as effective before. Try them they're and be pleasantly surprised.
Name: Karolina
Rating: ★★★★★ (5/5)
Review: These reaĺly work i take them twice a day would recommend these to any one.
Name: Finnian
Rating: ★★★★★ (5/5)
Review: Worked really well for me
Name: Francesco
Rating: ★★★★★ (5/5)
Review: I need all the help i can get not to overeat, and this does seem to help.
Name: Amelia-Grace
Rating: ★★★★★ (5/5)
Review: Yes they work quite well I am not as hungry as I was you have to drink lots of water if you want them to fill you up
Name: Charmaine
Rating: ★★★★★ (5/5)
Review: Brilliant product
Name: Alexis
Rating: ★★★★★ (5/5)
Review: This product does exactly what it's made to do, I'm usually a big snacker in between meal but taken this product has taken any need for snacking out of my day and also made me less hungry at meals times. I've tried other brands before so was a bit sceptical of yet another brand of appetite suppressant but I can honestly say this is a little miracle pill. You won't be disappointed in your purchase.
Name: Dixie
Rating: ★★★★★ (5/5)
Review: this really works for me as have tried many different products before that have filled me out but i wanted an appetite suppressant to stop me picking at food and this works better than the other products
Name: Harriette
Rating: ★★★★★ (5/5)
Review: Really recommend this product, if like me you have a big appetite. You still eat but it takes the edge off so you don't gorge yourself. No side effects.
Name: Catrina
Rating: ★★★★★ (5/5)
Review: I never really thought these would be that effective but i can honestly say that i these have helped reduce my appetite. I usually take 1 or 2 capsules around 7-8pm when I start getting the urge to reach for the snacks. At first they weren't that effective but that was because I realised I was using the product wrongly (wasn't drinking the recommended amount of water). When I started having the 400ml of water with the pills the difference in my appetite was night and day. I also like that these don't have any caffeine in them
Name: Anoushka
Rating: ★★★★★ (5/5)
Review: Works really well. Been taking for four months along with another Astral Nutrition product and they are amazingly effective.
Name: Kyran
Rating: ★★★★★ (5/5)
Review: Great I've lost half a stone in 2 weeks
Name: Rick
Rating: ★★★★★ (5/5)
Review: These really work for me! My appetite is definitely lower and I have pretty much stopped snacking at all because I feel pleasantly full and (for the first time in my life!) forget to think about food for hours at a time! Also a massive bonus that they are stimulant-free as the other brand I tried really messed with my sleep pattern. Really impressed!

(Side note- these capsules are kind of big... I haven't had any problems but if you find it difficult to swallow pills you might not like these)
Name: Diane
Rating: ★★★★★ (5/5)
Review: I decided to try these along with thermaxin only been tryin them for nearly 2 weeks but my appetite is nearly non existent .i would highly recommend these,
Name: Karla
Rating: ★★★★★ (5/5)
Review: These work great for me . I feel fuller for longer without having the urge to snack .
Name: Jada
Rating: ★★★★★ (5/5)
Review: These work very well and as you would want them to. Taken as and when needed to suppress hunger pain. A1.
Thanks! We'll validate your review and it'll be visible soon!
This field is required
This field is required
This field is required
This field is required
Email addresses will not be published. *Required field