H-Boost Hair Growth Formula
H-Boost is a clinically-proven hair growth formula that causes your hair to grow up to 436% faster, and become up to 124% thicker when used daily.
We've formulated this product with all-natural ingredients that work to completely rejuvenate your hair from within.
H-Boost also strengthens hair, prevents breakage, and improves volume and elasticity – we've also ensured it's free from anything that will cause body or facial hair growth.
This market-leading formula is suitable for both women and men and is perfect for those looking to vastly improve their rate of hair growth. †
Choose Your Supply (Buy Bulk & Save):
30-DAY MONEY BACK GUARANTEE
NO RECURRING BILLING OR CHARGES
THE MOST EFFECTIVE HAIR GROWTH PILL ON THE MARKET.
H-Boost works in 3 key ways:
It significantly increases the rate of hair growth:
H-Boost contains a powerful complex of scientifically-backed compounds that are all shown to help stimulate the growth of hair. While many of these compounds are found in trace amounts in the atypical human diet, H-Boost contains them in massive concentrations which, when consumed daily, has been shown in studies to cause hair to grow at a 436% faster rate than a placebo group.
It enhances hair strength, volume and vibrance:
Not only does H-Boost cause hair to grow quicker, it also significantly enhances the quality of your hair too. Ingredients inside the formula help strength and protect from breakage. They also help increase hair vibrance and can help prevent hair from looking lifeless, dull and dry.
It promotes healthy skin & nails too:
The same ingredients that perform all of the above functions also directly help improve your skin and nail health too. Users can expect glowing, radiant skin as well as strong and healthy nails.
1. Take one serving of H-Boost every morning with breakfast.
2. For best results, use this product for a period of 2-3 months.
Store in a cool, dry place, away from direct sunlight.
Use within 6 months of opening.
Always keep out of reach of children.
Important User Information:
Do not exceed the recommended daily dose.
Food supplements must not be used as a substitute for a varied and balanced diet and a healthy lifestyle.
If you are pregnant, nursing, taking any medications or are under medical supervision, please consult your doctor or a medical professional before use.
Discontinue use and contact a doctor immediately if any adverse reactions occur.
This product is not suitable for vegetarians.
| | |
| --- | --- |
| Active Ingredient | Amount Per Serving |
| | 140mg |
| | 100mg |
| | 66mg |
| | 50mg |
| | 45mg |
| | 30mg |
| | 421mg |
| Biotin | 20mcg |
| Selenium | 20mg |
| | 20mg |
Ingredients: Bulking Agent (Rice Flour), Capsule Shell (Gelatin), Vitamin C (Ascorbic Acid), Vitamin B12 (Maltodextrin, Cyanocobalamin), Zinc Citrate, Anti-Caking Agents (Magnesium Stearate, Silicon Dioxide), Calcium Pantothenate, Pyridoxine HCL, Retinol Acetate, Copper Gluconate, Riboflavin, Colors (Titanium Dioxide, Azorubine, Brilliant Blue FCF), Biotin, Sodium Selenite.
Is h-boost effective for preventing hair loss?
No, for that you'll need to check out our product "FolliSave". H-Boost is simply designed to stimulate rapid hair growth; it is not designed to prevent diminishing hair follicles.
If hair preservation is your main concern, we recommend using both of these products together.
Are There Any Side Effects?
We've formulated H-Boost in such a way that it will not produce any negative side effects for those who user it.
Is h-boost Suitable for Vegetarians?
Unfortunately this product isn't suitable for vegetarians or vegans, as the capsules are made from gelatin.
H-Boost is perfect for the following..
Those looking significantly increase their rate of hair growth.
Those who find their hair will only reach a certain length before stopping.
Those who feel their hair follicle productivity is not optimal.
Those looking to rejuvenate and revive dull, lifeless or damaged hair.
Those looking to boost hair volume and thickness.
For those who are experiencing thinning hair or a large amount of hair loss/breakage, we highly recommend that you take H-Boost with the following product:
THOUSANDS OF SATISFIED CUSTOMERS
H-Boost really works! Here's just some of the incredible results that we've been sent from our customers* - start your own success story today.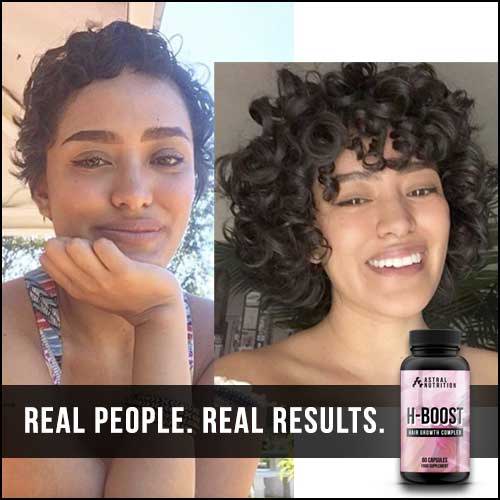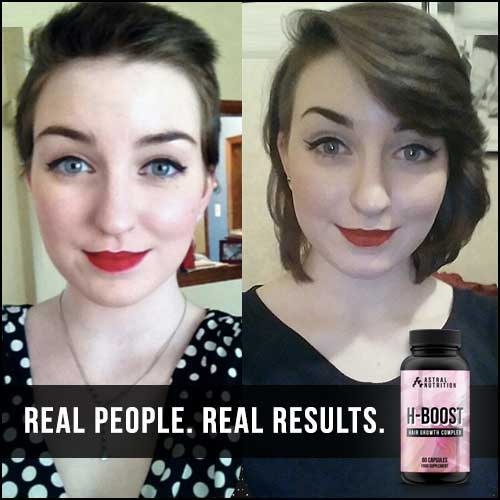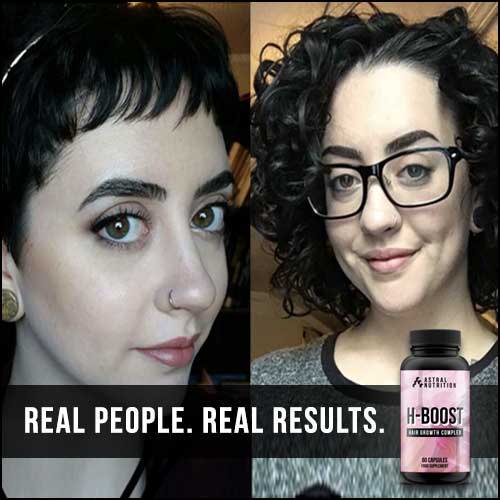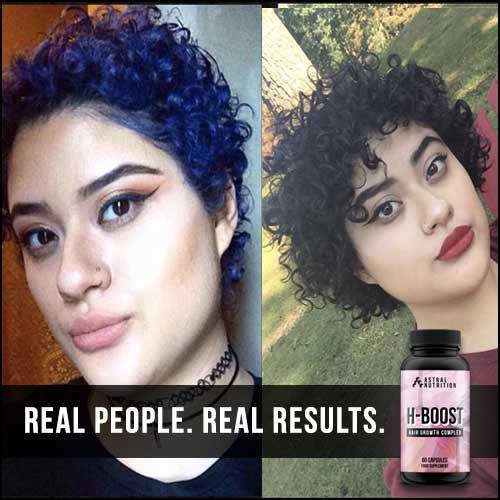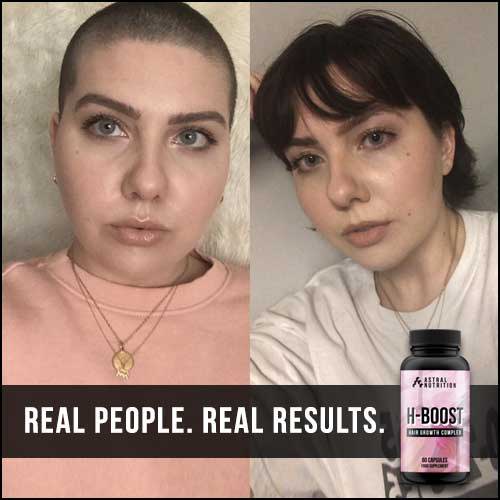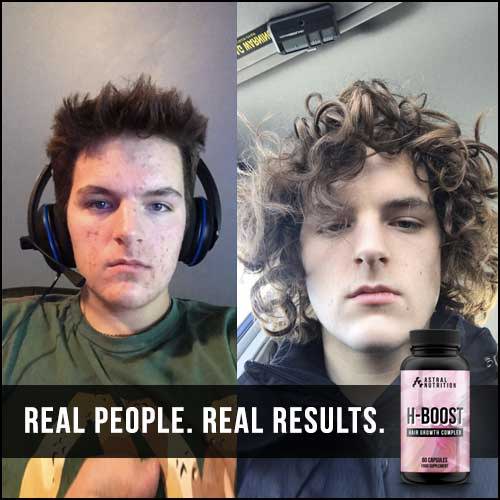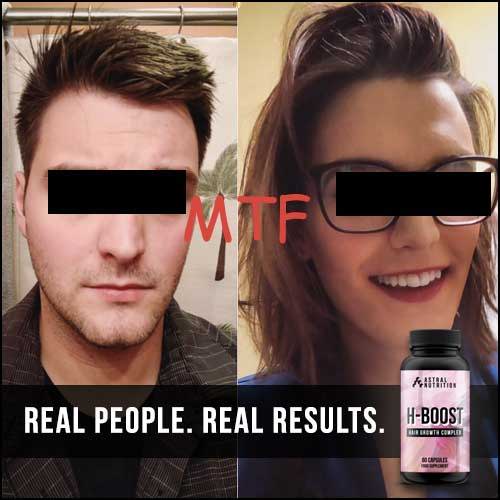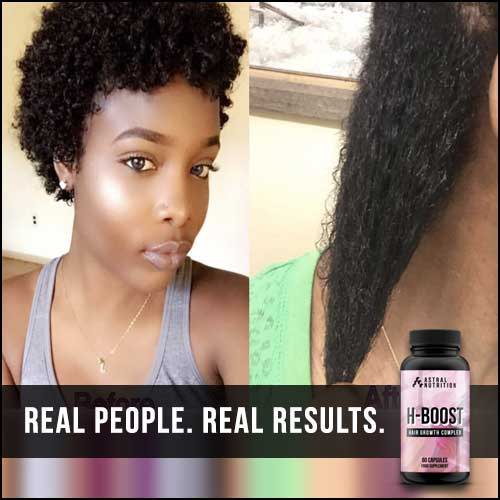 *Disclaimer: all of these images are genuine and provided to us by our customers. Individual results may vary from person to person.
---
MOST POPULAR & BEST RESULTS ▼
120 Capsules
Retail: £49.99
180 Capsules
Retail: £74.99
OUR 30 DAY MONEY-BACK GUARANTEE:

We are so confident in our product that we offer every single customer a no hassle, no questions asked 30 day money-back guarantee.
If you're not 100% satisfied with the results, we will issue you a refund.
---
WITH YOU EVERY STEP OF THE WAY
---
We pride ourselves on our after-sales support; your order with us is only just the beginning. We have a customer advice team of qualified nutritionist and dietitians who are completely at your disposal, ready to give you bespoke advice and guidance so that you can see the very best possible results.
We know that things can be intimidating, which is why we're with you every step of the way.
NO HARMFUL INGREDIENTS & SIDE-EFFECTS
---
We've formulated this product to be the strongest and most effective available, but that doesn't mean we've neglected consumer safety and wellbeing.
We have ensured that it is 100% free from any dangerous, banned or harmful compounds, and ensured that it will not produce any negative, unpleasant side-effects for users.
---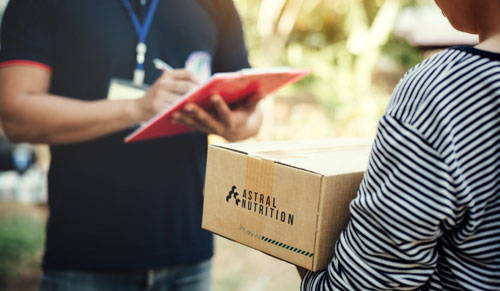 FREE TRACKED WORLDWIDE SHIPPING

Always know where your order is, and when it's arriving.
Each Astral Nutrition order is fully trackable every step of the way, from our international distribution hub, right to your address.
Customer Reviews FOR H-BOOST
Name: Mahira
Rating: ★★★★★ (5/5)
Review: Been taking for 3 months and I can see my hair is growing
Name: Kirsty
Rating: ★★★★★ (5/5)
Review: I have thin hair that's baby fine. I've been taking these for about 5 months. I had new hair growth the first month I started taking them. My hair is noticeably thicker and healthier.
Name: Tahlia
Rating: ★★★★★ (5/5)
Review: Good product that really does work. Hair is noticably healthier and longer after just 4 weeks
Name: Bethan
Rating: ★★★★★ (5/5)
Review: Works well highly recommended
Name: Angelica
Rating: ★★★★★ (5/5)
Review: I had damaged hair from coloring and straightening that was just breaking off and left my hair super thin. Even though these pills are expensive I decided to try them out. My hair has gotten thicker and healthier. I haven't had any problems with skin either :) I will probably invest in another bottle
Name: Aofe
Rating: ★★★★★ (5/5)
Review: Excellent product.
Name: Corey
Rating: ★★★★★ (5/5)
Review: They REALLY work! Plus they start working fast. I've been taking them for about a year and the difference is amazing per my hair stylist! He said my hair is actually getting thick again. I'm sure my hair loss was due to my stressful job. I had tried everything and nothing was working. I also recommended to a friend that had been put on medication that caused her hair loss to be extreme. She has been taking them for about 6 months and is thrilled. They are worth it!
Name: Husna
Rating: ★★★★★ (5/5)
Review: These are so good and my hair felt healthier after just one month. It didn't magically grow it out but I did start seeing less thinning and hair-loss (due to weight loss).
Name: Shayan
Rating: ★★★★★ (5/5)
Review: I noticed that my hair is actually growing and looks more vibrant
Name: Marianne
Rating: ★★★★★ (5/5)
Review: I love these. I've been using them for 4 months and definitely see an improvement in my hair. Less breakage. Less comes out in the shower.
Name: Brenda
Rating: ★★★★★ (5/5)
Review: they made my hair grow faster for sure. Great product thumbs up!
Name: Lori
Rating: ★★★★★ (5/5)
Review: Hair is stronger with way less breakage (no longer am I having to unblock the shower afterwards).
Name: Parris
Rating: ★★★★★ (5/5)
Review: I have noticed a big difference in growth strength, and my hair loss has come to a minimum. Love these and will continue to use them.
Name: Lilly
Rating: ★★★★★ (5/5)
Review: I must say that I was skeptical at first but I needed something for both my daughter and I. This really does work. Our nails feel stronger and don't break easily anymore. Our hair feels softer and stronger and even is growing in new places where I was loosing hair. This product will not disappoint!
Name: Sakina
Rating: ★★★★★ (5/5)
Review: I love that it helps grow my hair, making it soft and silky.
Name: Elouise
Rating: ★★★★★ (5/5)
Review: Best hair growth pills i've ever used without a doubt.
Name: Daphne
Rating: ★★★★★ (5/5)
Review: these vitamins have done wonders, I purchased these to help with postpartum hair loss and they have been great!
Name: Alissia
Rating: ★★★★★ (5/5)
Review: I was worried about dye damage to my scalp and I really noticed a difference in my hair growth after taking these.
Name: Madiha
Rating: ★★★★★ (5/5)
Review: Fast shipping and excellent product
Name: Ellie-Mae
Rating: ★★★★★ (5/5)
Review: made my hair grow super fast
Name: Shamima
Rating: ★★★★★ (5/5)
Review: Amazing product, I've been using it for 2 months so far and it really works, I was really sick and had lost a lot of hair from 2 back to back surgeries, I started taking these and saw results even in the first month, I highly recommend this product!
Name: Lidia
Rating: ★★★★★ (5/5)
Review: I see hair growth
Name: Celyn
Rating: ★★★★★ (5/5)
Review: So far great! Hair feels healed again.
Name: Taryn
Rating: ★★★★★ (5/5)
Review: you will see results but Rapunzel's hair wasn't grown overnight.
Name: Kaitlan
Rating: ★★★★★ (5/5)
Review: This worked for me. I noticed a difference half way through my first bottle. Currently almost done with my second. My hair naturally grows crazy slow but now it's noticeably longer.
Name: Scarlett
Rating: ★★★★★ (5/5)
Review: Works great and fast.
Name: Brogan
Rating: ★★★★★ (5/5)
Review: I love everything about this product. The way my hair feels. The way my skin looks, and the way my nails are way stronger! 5 stars!
Name: Hayden
Rating: ★★★★★ (5/5)
Review: It really works
Name: Ellie-Louise
Rating: ★★★★★ (5/5)
Review: Good product, price was good and shipping was fast.
Name: Angharad
Rating: ★★★★★ (5/5)
Review: Made my hair and fingernails grow like crazy!
Name: Gabriela
Rating: ★★★★★ (5/5)
Review: these really do work i have been using them for over a year and they make such a difference!
Name: Keely
Rating: ★★★★★ (5/5)
Review: No nasty aftertaste like some of the other hair growth vitamins ive had. Seeing better results too.
Name: Talia
Rating: ★★★★★ (5/5)
Review: Easy to swallow and no side effects. Hair growth has definitely accelerated since I started using them.
Name: Mai
Rating: ★★★★★ (5/5)
Review: My hair actually stopped falling out in the shower so I guess they're working!
Name: Harpreet
Rating: ★★★★★ (5/5)
Review: Completely satisfied and will 100% be back for more x
Name: Arianna
Rating: ★★★★★ (5/5)
Review: Actually works! My hair got thicker and the thinning stopped. Happy
Name: Darlene
Rating: ★★★★★ (5/5)
Review: I didn't take before and after pictures so I can't "show" you but my hair did defiantly grow. Getting ready to order my second bottle.
Name: Jorja
Rating: ★★★★★ (5/5)
Review: I have been talking these about 5 months and my hair is finally growing
Name: Arianne
Rating: ★★★★★ (5/5)
Review: I was skeptical about this product because I kept seeing it everywhere on social media by people who usually promote things that they don't use and don't work. However, these really do work wonders! My hair has grown at least 5 inches in the past 2months of taking these pills
Name: Brook
Rating: ★★★★★ (5/5)
Review: My hair usually breaks off and doesn't grow past the middle of my back but now it's hitting my waist. My hair and nails are getting thicker as well. Would highly recommmend.
Name: Rebekah
Rating: ★★★★★ (5/5)
Review: Grabbed a b ottle of H-boost after i cut off my hair and immediately regretted it! About 3 months of usage i've seen my hair grow about 5-6", which i absolutely was not expecting! Looks way healthier and is more volumous too.
Name: Mason
Rating: ★★★★★ (5/5)
Review: I did feel like my hair was much healthier, hair did grow a bit faster too.
Name: Fiona
Rating: ★★★★★ (5/5)
Review: I saw results after 3-4 weeks.
Name: Nikki
Rating: ★★★★★ (5/5)
Review: Definitely the real deal!!
Name: Sadie
Rating: ★★★★★ (5/5)
Review: Works good and was shipped and delivered impresively quick too.
Name: Annette
Rating: ★★★★★ (5/5)
Review: excellent product...easy to take....reorders arrive on time
Name: Lillie-Rose
Rating: ★★★★★ (5/5)
Review: Been using for a year and it definitely works.
Name: Margo
Rating: ★★★★★ (5/5)
Review: My hair is growing and is thicker. I'm very happy with this purchase.
Name: Maxime
Rating: ★★★★★ (5/5)
Review: I have taken one months worth of these and they are AMAZING. They really do work! My hair is so soft and ALREADY GROWING! LOVE THESE!
Name: Elsie-Rose
Rating: ★★★★★ (5/5)
Review: Best hair vitamins I have ever tried.
This actually works.
Name: Ela
Rating: ★★★★★ (5/5)
Review: It takes time to see results (at least for me) but it is definitely worth it .
Thanks! We'll validate your review and it'll be visible soon!
This field is required
This field is required
This field is required
This field is required
Email addresses will not be published. *Required field